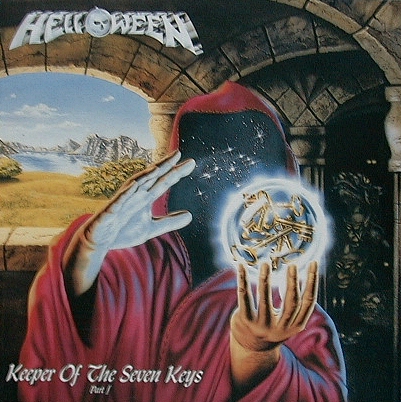 Origen: Hamburg/Alemania
Genero: Speed Metal, Power Metal
HomePage
Este album es uno de los mejores de Helloween. Aunque la banda aun està activa, a mi me gustaba mas cuando tenia a los miembros originales, speed, o heavy, no se, pero lo que si se es que esta banda influenciò a bastantes bastantes personas, incluyendome a mi, a entrar en el mundo del metal. Mi opinion personal, sin animo de ofender a nadie, es que el mejor
Helloween fue el original, solo me gustan los 2 keepers of the seven keys y el chamaleon. No hablo del Walls Of Jericho, porque hay mucho que decir, puesto que ese album (el cual subirè pronto) es para mi el mejor album de metal de la historia.
Heavy metal puro, rapido, con solos de guitarra imposibles, de la guitarra de Hansen.. en fin, quien no haya escuchado estos albumes debe bajarlos si quiere tener en sus manos unas de las joyas del metal.
Los miembros de la banda (En este album) son:
Michael Kiske: Vocales
Kai Hansen: Guitarra lider (GAMMA RAY, IRON SAVIOR)
Michael Weikath
Roland Grapow: Guitarra (MASTERPLAN)
Ingo Swichtenberg: Bateria
Uli Kusch: Creo que es otro baterista invitado (Gamma ray, Holy Moses, Masterplan, Sinner...
*******By FreeMan********
TrackList
1. Initiation
2. I'm Alive
3. A Little Time
4. Twilight of the Gods
5. A Tale That Wasn't Right
6. Future World
7. Halloween
8. Follow the Sign
En
Descarga
directa By FreeMan